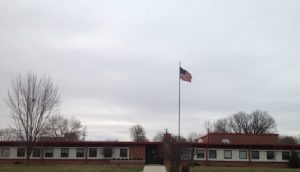 Arthur Grade School is one of the many schools in 102nd District
that could be impacted by a new school aid formula.
(Exerpts from the Phil Kadner Opinion piece in the Chicago Sun-Times)
Progress apparently is being made on one of the long-term issues facing the state: The School Aid Funding Formula.
The Illinois School Funding Reform Commission, created by the governor in July, is less than two weeks away from Rauner's deadline for issuing a report.
The 25-member commission includes elected officials from both parties appointed by the four Senate and House leaders and others selected by the governor. Its deadline to finish up its work is Feb. 1.
What everyone in Illinois should realize by now, and the governor has emphasized, is that Illinois relies more heavily on property taxes to finance public education than any other state in the nation. The disparities in education between rich and poor school districts in Illinois also are among the greatest in the nation. Elected officials representing both political parties have promised for decades to change the school funding system.
But just as the state's pension funding crisis was created over decades, governors and lawmakers for more than 30 years allowed the local property tax burden to mount while ignoring their constitutional responsibility to provide funding for the schools.
Expect to hear the words "evidence-based funding" repeatedly as the commission's work nears completion. This is a school financing theory developed by two professors that says a formula can be created that establishes an adequate level of funding for every student, while demanding results in exchange for money spent.
It's the popular theory. It sounds good because it would mean well-financed schools that provide a quality education. I'm a skeptic.
After one special panel was tasked with solving the school funding problem, it resulted in the state creating the Education Funding Advisory Board, which sets minimum mandatory foundation levels of per pupil funding for students. That has nothing to do with adequate funding, just the bare minimum the state should provide given financial constraints.
The state has failed to meet that minimum foundation level since 2003.
(Read the full article by Phil Kadner of the Sun-Times by clicking
here
.)