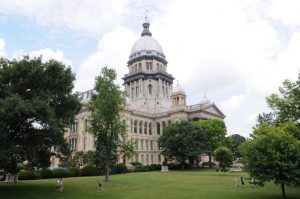 State Representative Brad Halbrook (R-Shelbyville) has been named to five committees in the Illinois House of Representatives for the 100th General Assembly. They include Cities & Villages, Counties & Townships, Elections & Campaign Finance, Government Consolidation & Modernization, and the Government Transparency Committees. Rep. Halbrook has been named the Minority Spokesperson for the Counties & Townships Committee.
"I am honored to be asked to serve on these committees and particularly to be named spokesperson for the Republican Caucus on the Counties & Townships Committee," commented Rep. Halbrook. "These committees are all ones that I can work with to advance the common themes of 'efficient government practices' and 'accountability to the taxpayers' which directly impact moving our state forward with balanced budgets and reforms to turnaround our state," Rep. Halbrook added.
The Illinois House currently has forty-five standing and eleven special committees. The committees are intended to hold hearings on proposed legislation that addresses the various topics of the committees. From these hearings, committees can help shape the language of the proposals with amendments, and either agree to move the legislation to the full House for consideration or the committees can advise that the proposed bills are not fully vetted and should not advance to the full House for consideration.
People may follow the progress of legislation and watch or listen to live debates of the General Assembly on-line at www.ilge.gov.