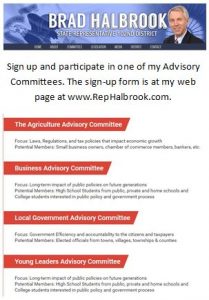 State Representative Brad Halbrook (R-Shelbyville) announced today that he has established four advisory committees to involve local residents in the democratic process.
"I believe that government closest to the people is more responsive and accountable," stated Rep. Halbrook who serves on the Government Transparency Committee in the Illinois House. "These advisory groups will allow our neighbors and friends to have input on key topics because we know that all of the good ideas to help Illinois don't just come from Springfield," added Halbrook.
You may sign up to serve on one of the advisory committees at www.RepHalbrook.com.