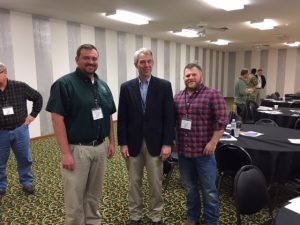 Tyler Harvey (left) and Clint Robinson (right) of Moultrie County Farm Bureau
discuss projects of the Kaskaskia Watershed Association with Rep. Halbrook.
On Monday, State Representative Brad Halbrook (R-Shelbyville) attended the 17th Annual Kaskaskia Watershed Association (KWA) Summit at the Mariners Village Conference Center at Carlyle Lake. The KWA is a group of volunteers that works with the U.S. Army Corps of Engineers to improve watershed wide issues that include five of the counties in the 102nd district (Shelby, Moultrie Macon, Douglas and Champaign Counties).
The Kaskaskia Watershed Association has been instrumental in securing a US Army Corps of Engineers 'Handshake Partnership Program' award of $20,000 to improve the pollinator habitat around Lake Shelbyville. This project will convert 100 acres of old field habitat choked out with invasive species into a diverse pollinator mix, vital to numerous insect species which pollinate native Illinois plants.
"I would like to thank the Moultrie County Farm Bureau members who attended and participated in a panel discussion about how framers are working with the Kaskaskia Watershed Association to improve water quality through better efficiencies in fertilizer applications and various crop planting strategies," commented Rep. Halbrook, a member of the Counties & Townships Committee. "It was encouraging, also, to hear members of the public suggest that we should pursue private donations as matching monies for the federal dollars that are already approved and waiting to be used for the various projects as soon as there is a 50-50 match," added Halbrook.