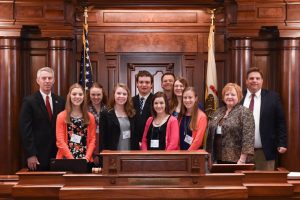 State Rep. Brad Hallbrook (R-Shelbyville) joined State Sen. Chapin Rose (R-Mahomet) in hosting students from the Eastern Illini Electric Cooperative March 29 at the capitol. The students were in Springfield as part of Illinois Electric and Telephone Cooperatives Youth Day, activities sponsored by the Electric and Telephone Cooperatives of Illinois. Eastern Illini serves Ford, Iroquois, Piatt, Champaign, Douglas and McLean County. Champaign and Douglas Counties are in the 102nd District represented by Rep. Halbrook.
In the photo in the Senate Chambers (from left to right): State Rep. Brad Halbrook; Renae Spannagel, Villa Grove; Lauren Tingley, Bismarck; Bridget McMullin, Loda; Jacob Rietz, Gilman; Claire Bossong, Watseka; Mike Wilson, EIEC; Hannah Warfel, Tuscola; Miranda Fairbanks, Sadorus; Susan Brown, EIEC; and State Sen. Chapin Rose.
For over 55 years, the electric and telephone cooperatives of Illinois have given tomorrow's leaders the opportunity to learn from today's public officials. Each year, nearly 300 outstanding students get an up close and first hand look at democracy in action when they meet their elected representatives during Illinois Electric and Telephone Cooperatives Youth Day. Over the years, thousands of students have learned how government works and why it's important for every citizen to get involved in it. State senators and representatives have the opportunity to inspire and encourage the leaders of tomorrow during this annual event, held in Springfield.