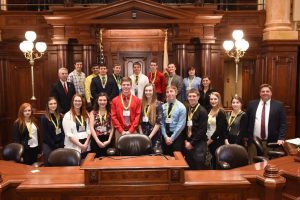 Pictured are front row (l-r): Abigail Bresnan, Natalie Kirkbride, Kyra Jackson, Sara Stephens, Braxton Vice, Morgan Braden, Ian Cornahan, Chase, Thies, McKenna Sanders, Lauren Bowers, and State Senator Chapin Rose. Top row (l-r): State Rep. Brad Halbrook, Jackson clark, Tyler McLain, Wyatt Henschen, Colby May, Garrett Fritz, Ben Althoff, Marshall Nohren, Zachary Wieland, and State Rep. Avery Bourne.
Rep. Brad Halbrook (R-Shelbyville), Senator Chapin Rose (R-Mahomet) and Rep. Avery Bourne (R-Raymond) hosted students from Shelby Electric Cooperative on March 29th at the State Capitol. The students were in Springfield as part of Illinois Electric and Telephone Cooperatives Youth Day. The Shelby Electric Cooperative serves Shelby, Christian, and Macon Counties.
For over 55 years, the electric and telephone cooperatives of Illinois have given tomorrow's leaders the opportunity to learn from today's public officials. Each year, nearly 300 outstanding students get an up close and first hand look at democracy in action when they meet their elected representatives during Illinois Electric and Telephone Cooperatives Youth Day. Over the years, thousands of students have learned how government works and why it's important for every citizen to get involved in it. State senators and representatives have the opportunity to inspire and encourage the leaders of tomorrow during this annual event, held in Springfield.