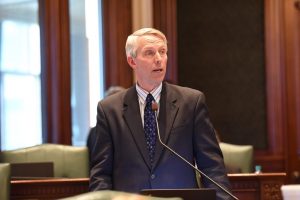 State Representative Brad Halbrook (R-Shelbyville) reported that House Bill 40 narrowly passed the Illinois House on a vote of 62-55 that would create a new law to allow taxpayer funded abortions in Illinois even if 'Roe v. Wade' is overturned at the federal level. The bill also expands abortions to include Medicaid recipients and state workers on state-funded insurance plans.
"I know people of Faith can disagree on public policy, but my Faith tells me that abortion is murder and I will always fight for the innocent and defenseless in our society," declared Rep. Brad Halbrook. "Today's bill to expand access to abortions and pay for them with our public dollars is offensive and wrong! We cannot even pay for women's shelters, seniors' meals-on-wheels, or college grants for students, yet we apparently can obligate the unfunded, non-existent budget for a projected $60 million to kill an additional 30,000 babies. This is a sad day in Illinois," added Rep. Halbrook.
According to the 'Workers' Action Guide published by the Illinois Department of Human Services, Medicaid provides medical coverage for pregnant women who make less than 213% of the federal poverty level. The latest numbers from the Guttmacher Institute, released in May 2016, indicate that 75% of women who receive abortions have income under 200% of the federal poverty level. Based upon this information, and published documentation from the Illinois Department of Public Health and the Department of Healthcare and Family Services about the cost and frequency of abortion procedures, the $60 million price tag would decimate the Illinois Medicaid budget.