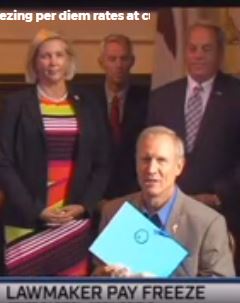 Rep. Halbrook (center standing) at the signing
of HB 643 by Gov. Rauner at the State Capitol.
Today, Governor Rauner signed House Bill 643, which was co-sponsored by State Representative Brad Halbrook (R-Shelbyville) and recieved bipartisan support in both chambers. The bill eliminates a cost-of-living adjustment (COLA) for fiscal year 2018. The bill also puts a cap on per diems received by legislators during session.
Rep. Halbrook said that passing HB 643 was the fiscally responsible thing to do for Illinois as a whole which is evident by the overwhelming bipartisan support it received.
"It has been clear to everyone involved that signing House Bill 643 into law was the right thing to do," Halbrook said. "Illinois' finances are not in order and to think we as legislators should give ourselves a pay raise is offensive to taxpayers. I applaud the Governor for signing HB 643 and both sides of the aisle for showing tax payers the respect they deserve."
Along with eliminating the cost of living adjustments for FY18, the bill sets legislative per diem rates at $111 per session and mileage reimbursement at $0.39 dollars per mile, which are the same rates that have been used since 2012.
Watch the WAND Channel 17 (NBC) video of the signing
here
.