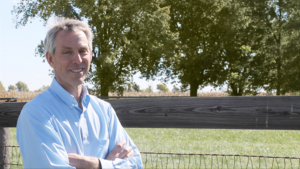 House Republican Leader Jim Durkin announced today that State Representative Brad Halbrook (R-Shelbyville) has been appointed to the Agriculture & Conservation Committee in the Illinois House of Representatives effective immediately.
"I'm pleased to be appointed to the House Agriculture & Conservation Committee, serving Illinois' largest industry," said Rep. Halbrook. "Many families are tied to farming and agricultural jobs and we need to be sure that public policy continues to recognize this and support a strong, healthy agricultural industry."
Illinois is a leading producer of soybeans, corn and swine. The state's climate and varied soil types enable farmers to grow and raise many other agricultural commodities, including cattle, wheat, oats, sorghum, hay, sheep, poultry, fruits and vegetables. Illinois also produces several specialty crops, such as buckwheat, horseradish, ostriches, fish and Christmas trees.
According to the United States Department of Agriculture National Agricultural Statistics Service (USDA-NASS), as of February 2017, Illinois had 72,200 farms. Illinois farmland covers nearly 27 million acres — about 75 percent of the state's total land area. Most farm acreage is devoted to grain, mainly corn and soybeans. Nearly 10 percent of Illinois farms have swine. Beef cows are found on about 23 percent of farms, while about 3 percent have dairy cows. Some farms produce specialty crops and livestock, including alfalfa, canola, nursery products, emus and fish. Many farming operations also support recreational activities such as hunting and fishing.
Illinois' agricultural commodities generate more than $19 billion annually. Corn accounts for 54 percent of that total; soybeans contribute 27 percent, and the combined marketing of livestock, dairy and poultry generates 13 percent. The balance comes from sales of wheat and other crops, including fruits and vegetables.
Billions more dollars flow into the state's economy from ag-related industries, such as farm machinery manufacturing, agricultural real estate, and production and sale of value-added food products. Rural Illinois benefits principally from agricultural production, while agricultural processing and manufacturing strengthen urban economies.
With 2,640 food manufacturing companies, Illinois is well-equipped to turn the state's crops and livestock into food and industrial products. The state ranks first in the nation with $180 billion in processed food sales.
Illinois' agricultural commodities also provide the base for such products as animal feed, ink, paint, adhesives, clothing, soap, wax, cosmetics, medicines, furniture, paper and lumber. Each year, 274 million bushels of Illinois corn are used to produce more ethanol than any other state — about 678 million gallons. Illinois also markets other renewable fuels, including soybean-based biodiesel.
Residents are encouraged to contact Rep. Halbrook if you have questions or concerns about state policies and programs at the on-line web blog for Representative Halbrook at www.rephalbrook.com.