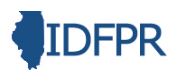 State Representative Brad Halbrook (R-Shelbyville) announced that the governor signed into law House Bill 1281 (Public Act 100-0560) that extends the repeal of the Nursing Home Administrators Licensing and Disciplinary Act to January 1, 2028.
"The passage of HB1281 extends the sunset date on the Nursing Home Administrators Licensing and Disciplinary Act for ten more years until January 1, 2028. The education, work experience, continuing education requirements, and the random compliance audits will ensure that Illinois nursing homes are safe and that the administrators of nursing homes are adhering to a high set of standards," commented Rep. Halbrook, chief co-sponsor of the legislation.
An initiative of the Illinois Nursing Home Administrators (INHAA), this legislation is supported by the Illinois Department of Financial and Professional Regulations (IDFPR). The Licensure Act requires:
1) Certification of graduation from high school or a GED
2) Certified records of education and experience (Baccalaureate Degree, Course of instruction
in Nursing Home Administration; 3-year Nursing diploma + 2 years experience; or Associates Degree or a minimum 60 semester credits + Employer's Affidavit of experience.
3) Statement of sound physical and mental health dated within one year preceding application;
4) A complete work history since completion of education; and
5) payment of the required fee ($100 Initial Fee; $75 Temporary License; and/or $50 Renewal
Fee).
Every licensee must have their license renewed every two years. Every renewal applicant shall complete 36 hours of Continuing Education (CE) relevant to the practice of nursing home administration required during each pre-renewal period. The Department of Professional Regulations (IDFPR) shall conduct random audits to verify compliance.