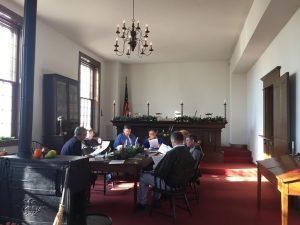 Seated around the table (l-r): Rep. Brad Halbrook of Shelbyville; J.D. Sudeth, farmer and past president of the Sangamon County Farm Bureau; Rep. Dave Severin of Benton; Rep. Tim Butler of Springfield; Rep. Terri Bryant of Murphysboro; DuQuoin Mayor Guy Alongi; and Senator Paul Schimpf of Waterloo. Joining the group by conference call was Rep. Jerry Costello II, Chairman of the House Agriculture & Conservation Committee.
State Rep. Brad Halbrook (R-Shelbyville) hosted a discussion this morning at the Historic Vandalia State House with a bipartisan group of legislators and others to discuss some ideas about economic development for central and southern Illinois. "A big thank you to my colleagues on both sides of the aisle who came together to talk about some ideas for growing our economy in Illinois," commented Rep. Brad Halbrook, member of the House Agriculture & Conservation Committee. "With the passage of tax reform at the federal level this week, it seems like the right time to have some more conversations about what we can do at the state level to grow our economy, create jobs, and promote Illinois' number one industry…agriculture!"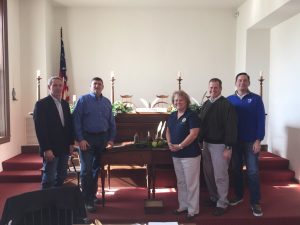 Standing (l-r: Rep. Halbrook, Rep. Severin, Rep. Bryant, Sen. Schimpf, and Rep. Butler)
in front of the Illinois Supreme Court bench from 1836 when Vandalia was still the Illinois state capitol.
Current Illinois House members (l-r) Tim Butler, Terri Bryant, Dave Severin, and Brad Halbrook
standing in front of an original legislators desk from 1836. To their left is an empty chair, slightly turned,
believed to be approximately where Abraham Lincoln would have been seated
as a Whig member of the Illinois House of Representatives.