State Representative Brad Halbrook (R-Shelbyville) announced the passage of House Joint Resolution 104, naming a portion of Interstate 57 in Champaign as the 'Congressman Tim Johnson Highway.'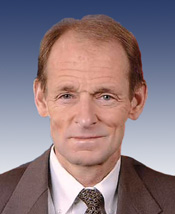 "I am proud to sponsor this resolution," said Halbrook. "For the entirety of his legislative career in both Springfield and Washington, Congressman Johnson represented Douglas County which I now represent. Even now, Tim continues to be known and admired by residents of my district."
The resolution now moves to the Illinois Senate. The portion of Interstate 57 named will be from Interstate 74 on the north to the Curtis Road exit on the south. Johnson was instrumental in obtaining funding for the Curtis Road interchange in his time in Congress.
"Congressman Johnson served on the Transportation committee for all of his twelve years in Washington," said Halbrook. "While in Springfield, he was also highly regarded for his concern for infrastructure needs in his district. It's appropriate that his name be remembered by the state on a portion of a federal highway."
Tim Johnson was first elected to the legislature in 1976 and served until 2000. He was elected Congressman in 2000 and served until his retirement in 2013.